Outside the box thinking for innovation in inside cladding
Laser Cladding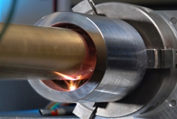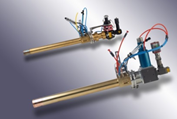 Wear and corrosion of hollow tubes is estimated to cause annual cost of 2.1 trillion USD worldwide. In order to increase the lifetime of e.g. oil drilling tools, the tubes need to be coated inside, which is difficult for tubes with small diameters and considerable depth.
Laser-based Inside Cladding is a novelty proven technology for the application of coatings in laser technology, but more More and more companies discover the potential to enhance their products towards increased boost their productivity and competitive advantage. For oil and gas companies inside cladding is a great solution to fix damaged pipelines from the inside. But also manufacturers of products with surface coatings and producers of laser systems can benefit from this technology.
Inside cladding is a surface modification technology utilizing a laser heat source to deposit a thin layer of metallic powder on a substrate within a hollow body, e.g. tubes and pipelines. LASHARE has developed a laser-based system that enables the robust application of anti-abrasive coatings in such bodies.
During the cladding process the optics is exposed to a flow of heat, which can have significant negative effects on the equipment. Additionally, backscattered powder particles can contaminate the optics. How to tackle these challenges is currently assessed in this project:

INCLAD - Inside cladding system with integrated process monitoring